Goodie Bag Ideas and Other Cool Stuff
Keep Checking Back Here For More Magic Party Ideas!
...

Here is Santa's Magic Trick coloring sheet for you to have fun with!
Get out the markers and scissors for your kids to perform Santa's favorite magic tricks. The Candy Canes keep growing, another one appears & disappears and a present magically appears!
Below is the download link for a better copy: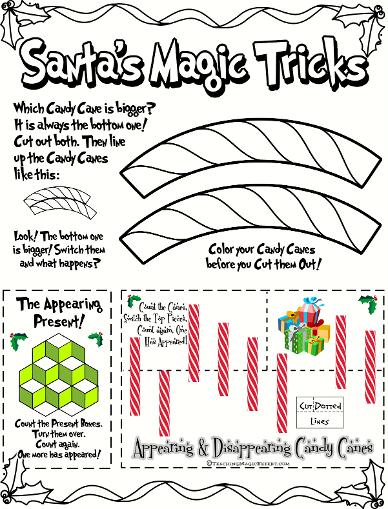 How To Make Magician Top Hats For All The Kids From Paper Plates!
If you are having a magician for your birthday party then having the kids make Top Hats is a really fun craft that the kids can do.

Watch the video and see all the steps. It helps if you or an older brother or sister is overseeing when the kids are making their hats. It is easy to do if you have done it before but the first time it is a little confusing.

Be sure to use a hole punch as it makes starting to cut SO much easier. Also, the hat will bend into the right position much easier and not tear at that point.

Once you get the concept down you can be creative and make all kinds of hats. I have made Elf Ears for Christmas, antlers, crowns, and even Football Goal Posts for the Super Bowl. You have the entire middle of the paper plate to design an object.

Have fun!
Doug
Making a Bunny Rabbit Birthday Cake

Honest, it is easy and fun. Both kids and adults will be impressed you did this yourself. Not to mention the money you will save!
Watch the video to the right and tell me you can't do this
- I dare you -
My daughter and I made this in under and hour, not counting the cool down time for the cake. (Let the rounds cool down completely before adding frosting.)
Here are a few tips for making your cake easier and better looking:
Use the outside of the cake pan as a guide to cut out the ears and make the bow tie. It will be neater and the bow tie will fit perfectly against the bunny's face. Also, trim an inch or so off one end of each ear. That way they will sit flush against the top of the head. (Be sure to eat those cut off pieces to test the cake!)
Add the pink ears and nose then outline with the black. Don't try to outline first and then fill it in. Trust me, it is easier and neater. Or you can use pink sugar. If you use sugar then make the outline first and sprinkle the sugar inside.
Save money by buying and extra can of white frosting and make the colors you want with food coloring. Use whatever colors match your theme.
To make stars it is easier to buy a tube. See the picture to the right of the cake a mom made at one of the parties I performed at. She used a tube with a star tip to decorate the bow tie.
We used a regular tube of green to outline and decorate our bow tie.
If you feel the need, practice drawing the face on paper a couple of times.
Needed:
Box of Yellow Cake Mix
Two tubs of White Frosting (Or One Chocolate if you want a brown bunny.)
Tube of Black Icing
Food Coloring (Red to make pink and another for the Bow Tie.)
We used a tube of Green Icing to decorate the Bow Tie.

Bunny rabbits are delicious (cakes that is!)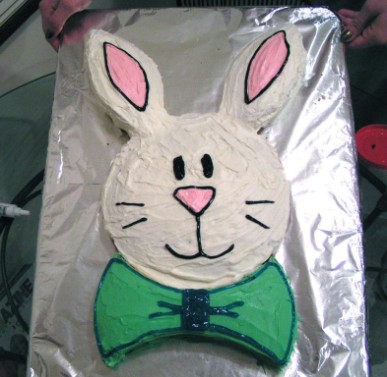 Check This Cake Out That A Mom Made
At One Of My Shows: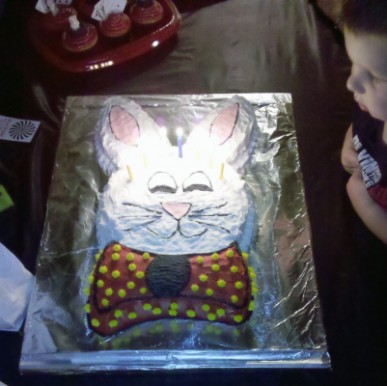 Pretty cool bunny cake. The little boy is mesmerized by it!
In the corner you can see the extra cupcakes she made.
It was a big party!
Keep checking back here for more party ideas! I'll keep adding them.

If you make a cake send me a picture of it. I would love to see it!

info. DougHoover @ gmail. com (Take the spaces out)