Happy Kids - By Magic!
(661)513-4113

"Great Show!! Kids loved it & parents wanted more!" Stephanie Cash
Is this what you said after your last party? How many times do parents want to see more of a children's performer?
Greetings! My name is Doug Hoover and I am a birthday party magician and entertainer who for over 20 years has dedicated his time to make life easier for Mom (and Dad) all across the Southern California area.
"Hi Doug! I wanted to thank you again for such an amazing time at our party. The kids (and adults) were all amazed and loved every bit of it! I keep looking at my pictures trying to figure your secrets out! Kellen says it was the best birthday ever!!
Thanks again!" Sarah Edgington
How do I do this? By being a kid's magician who blends comedy, surprises, puppetry, clowning around, music, and balloon animals into a unique birthday party magic extravaganza your child, your family, and your entire neighborhood will remember FOREVER!
"You have performed your magic show for three of my grand children's parties. We have been impressed each and every time! Not only do you keep the children involved in your magic show the adults as well are quite impressed. We seem to have as many parents as children watching!
Each time we've seen your magic you add something new so that each performance has been different. We look forward to your next bit of magic and thank you for being our family's special magician!"
Lee and Joyce Watt, Santa Clarita, California
How Do You Choose an Entertainer?
Sure, you'll find a lot of entertainers out there. But how do you know which to choose? How can you be sure they know how to provide age-appropriate solutions to your family's needs? And how can you feel certain you'll get the best possible value for your investment?
The answer: Hire a Kid-Show Specialist.
For kid's parties and family events, you want entertainment that's visual, easy to understand, and (of course) extremely funny. You don't want a clown (no offense to real clowns!) who just recycles old "jokes" the kids won't understand. Children love situational comedy, where crazy stuff happens and everyone enjoys the fun.
You want someone who has spent their time improving their programs and preferably someone's who's performed hundreds of times in front of a live audience. You don't want a part-timer, you want someone whose good enough to work as a FULL-TIME Professional!
"We've had entertainment of all kind at our daughter's parties but you were by far the best! The children enjoyed it all as well as the adults!" Debra Yaetts, Valencia, CA
Only by hiring an experienced professional who specializes in children's entertainment can you be certain you'll get the quality and value your family deserves.
"Everyone had a great time, your show was amazing!
You really made my son feel special. You helped us create some unbelievable memories!" Andrea Ganson,
Southern California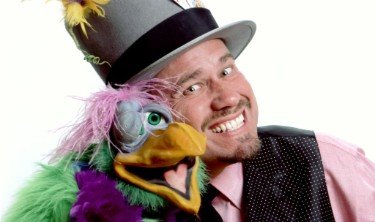 "The show was, in a word, magical! The kids, ranging in ages toddler to tween, were riveted and entirely delighted. The adults were enthralled as well! It was an absolutely terrific time! Also, the balloon animals and Goddie Bags were such a huge hits. The kids loved the Goddie Bag magic tricks. Can't wait to have you back!"
Thank you, Crystal R.

Ventura, CA

Click To See The Fun They're Having!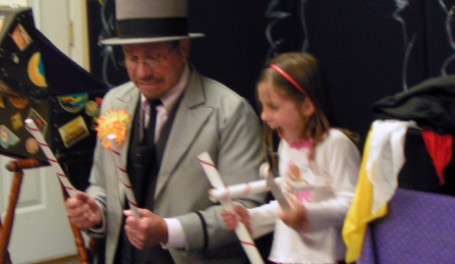 Her Son Smiles The Entire Time!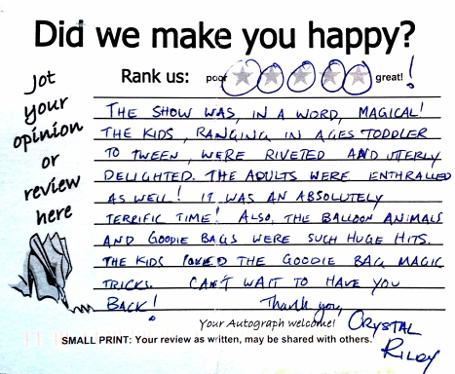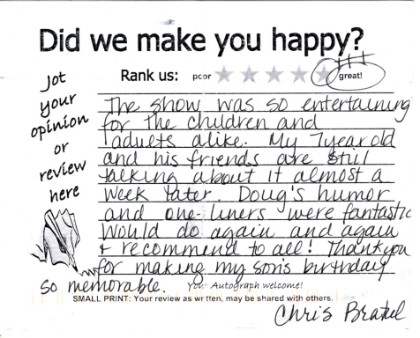 Second Time Around For A Happy Mom!
If you are having a Pool Party please go to the "Pool Party!" page above for an important ease of mind idea!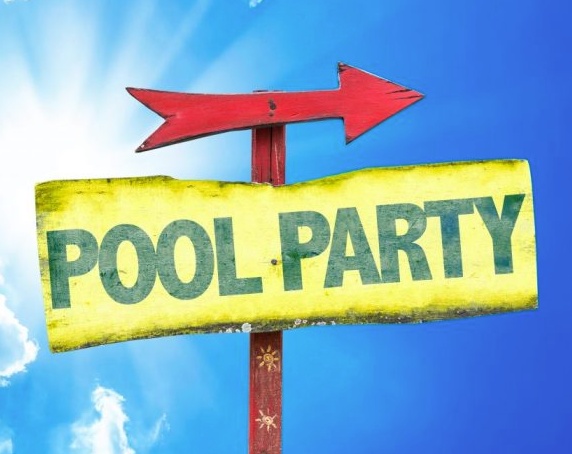 Read what two moms have said about Doug's show for older children and his Magic Workshop that includes goodie bags, or as Doug calls them, Bag of Tricks:
(Thank you both for inviting me to your child's party! I had a great time too!)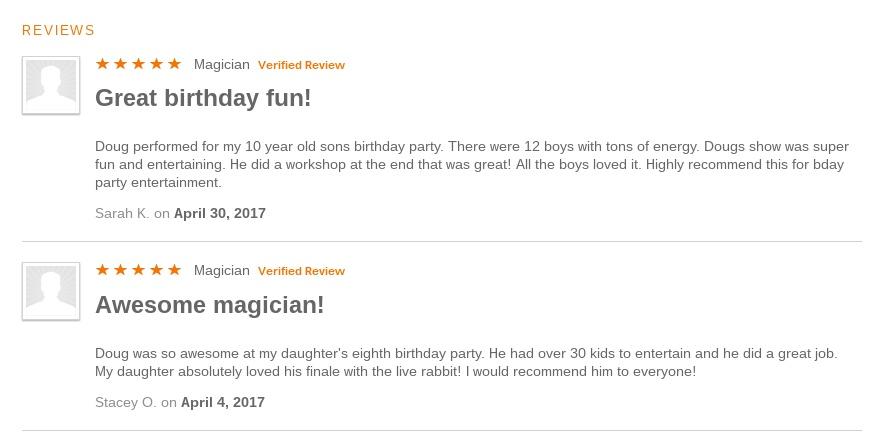 Would you like more info?

Call Doug Now:

Or Fill Out This Form For A Quick Response:

"The show was so entertaining for the children and adults alike. My 7 year old and his friends are still talking about it almost a week later. Doug's humor and one-liners were fantastic. Would do again and again & recommend to all!
Thank you for making my son's birthday so memorable, Chris B.

Santa Paula, CA
Contact Me-Would you like an e-mail with more details, a phone call to talk, or a short text reply?
The Birthday Your Child Will Never Forget - Guaranteed!
You'll love it and I do guarantee it! Your child will love it too! And, as a matter of fact...

If you're not completely 100% satisfied
YOU WILL GET YOUR MONEY BACK!
"I just wanted to thank you for putting on a very entertaining magic show. My kids loved it and were spellbound! They are still trying to figure out the tricks. I am telling all my friends!"
Dawn Diaz, Granada Hills, CA
All my party package solutions provide a guaranteed, laughter-packed 30 to 90 minutes of magic, comedy, puppets, clowning with the kids and fun! There's no experimental material in my show – it's all tried and true A+ material.
And the star of the show? YOUR CHILD! All throughout the show, magic will continually happen in their hands which of course makes your child feel VERY special!
Plus there's tons of HILARIOUS Audience Participation! Every kid gets to help out in some way, which is important because, as you know, kids don't want to just sit and watch – they want to get into the act, don't they?
"The show was so entertaining for the children and adults alike. My 7 year old and his friends are still talking about it almost a week later. Doug's humor and one-liners were fantastic would do it again and again & recommend to all! Thank you for making my son's birthday so memorable." Chris Bratzel, Stevenson Ranch, CA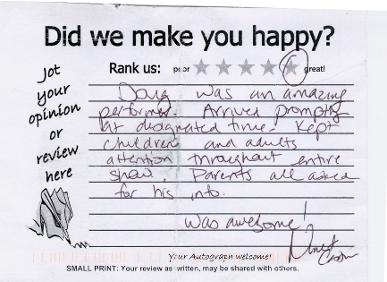 Doug was an amazing performer. Arrived promptly at designated time. Kept children and adults attention throught entire show. Parents all asked for his info.
Was awesome! Ninet C. Valencia, CA
Doug Gets Both Kids And Adults Laughing!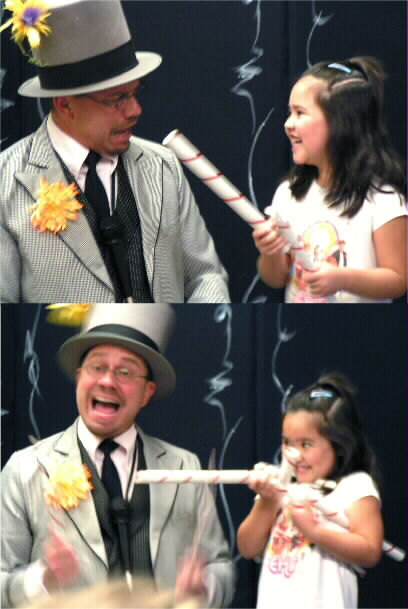 Dad Says It Was A Great Experience!
And of course, Doug's show includes some guaranteed WOW moments:
· A birthday cake disappears but the kids think they have caught the magician and know where it went! Everyone's jaws drop when they find out where it really is!
· Harvey is the bird who thinks he knows some tricks! Kids ask to see Harvey again and again. Even older kids get a kick out of him and laugh riotously! Everyone falls in love with Harvey. I guarantee your entire family will scream and laugh their heads off at Harvey's antics!
· For the grand finale, everyone's favorite is Doug's head twisting round and round. From big kids to little ones, it is the ending that will have EVERYONE rolling on the floor in hysterics - your walls will Rock with Laughter - guaranteed!
Every movement, every moment has been precisely planned and packed with action, magic, music, and laughter for your entire family! Imagine how much fun you'll have watching every face in your home howling with laughter!
"Great performance! All the parents felt you were age appropriate for the kids as opposed to other performers they had seen at other parties. Thanks so much!" Karen Lynn, Oxnard, CA
Memories - What It's All About
Take Lots Of Pictures!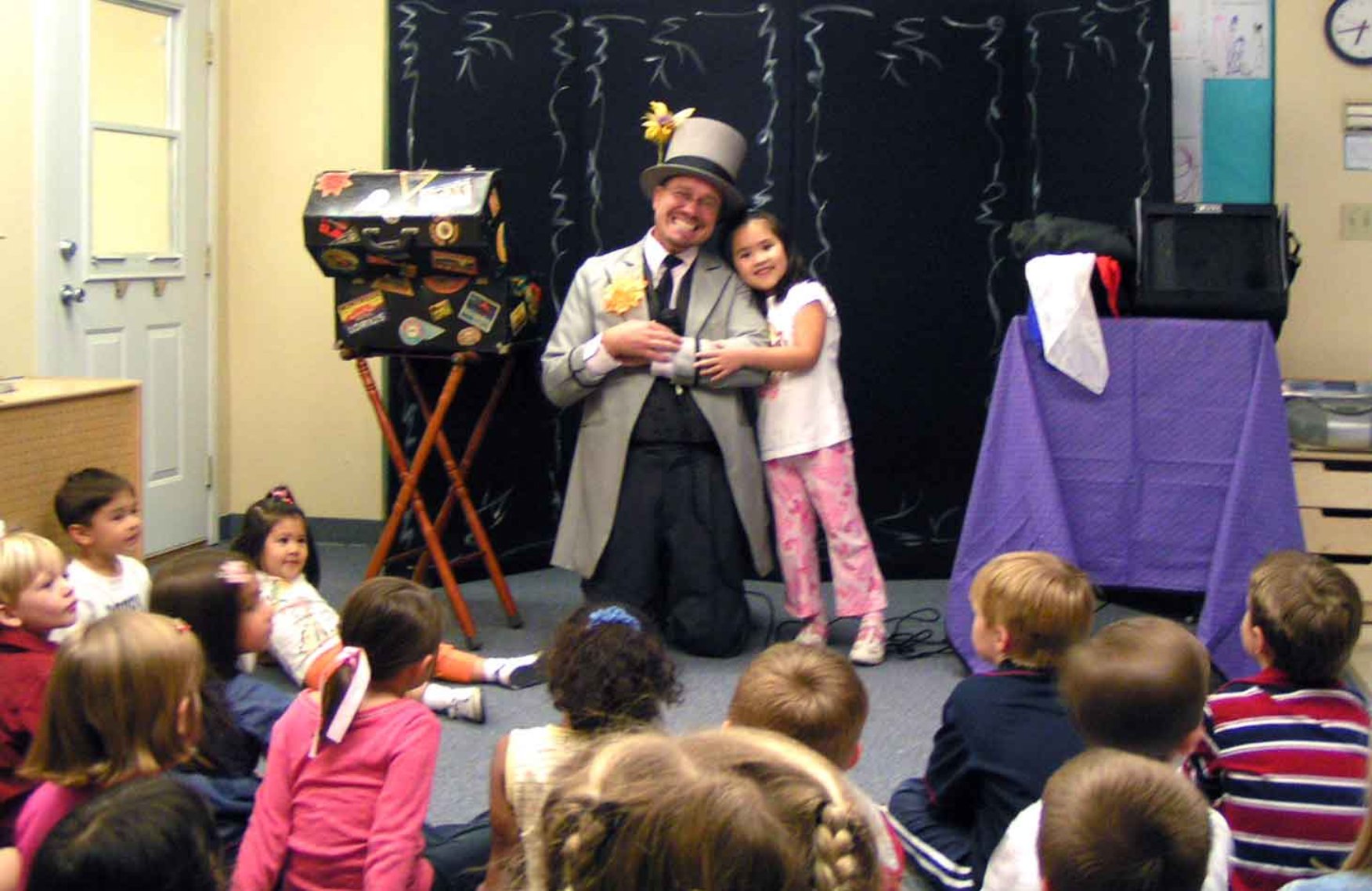 Another Review Card Mailed In: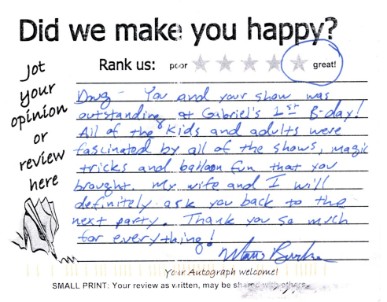 And for older kids parties get the Ultimate Party Package and you'll receive the following:
· Goodie bags, packed with magic, toys and surprises! No candy or filler. The best part is that Doug shows off the tricks and then teaches the children how to do them! The kids love it and it saves you the time of running around and finding all the little pieces and putting the bags together yourself.
· Balloon Animals appear almost magically in a variety of shapes and colors as a special prize for every child there!
· Walk around close-up magic for both adults and kids. This is the same eye-popping magic experienced at Hollywood's famous Magic Castle!
And then, the big, "Rock Your Walls With Laughter" finish!
I guarantee, every kid in the neighborhood will give a big THANK YOU!!! for throwing such a GREAT party!
"The opening surprises got everyone's attention in a big way and grabbed them from the beginning. The show was definitely a hit. Excellent show!"
Debbie Brogan, Saugus, California
It Sounds Fantastic! But Can I Afford This?
I offer several different party package solutions, ranging from $225 to $350 – making sure there's a package friendly to every family's needs. And if one of my standard packages doesn't fit just right, we can craft a solution personalized for your party! Finally, to make it even easier for you, I accept cash, checks and credit cards.

Wow! How Can I Find Out More!?
Contact me today to learn how easy it is to throw a party that will create wonderful memories to last a lifetime.

Call:

(661)513-4113
Or fill out my contact form below and together let's make the kids happy by magic!
Sincerely,

Doug
Contact Me-Would you like an e-mail with more details, a phone call to talk, or a short text reply?
P.S., As you might imagine, weekends are extremely busy and fill up fast. I do several dozen events every month, and as one of the busiest kid show pros in the Southern California, my calendar can fill up weeks in advance. So I urge you to email me or call NOW!
(661)513-4113 – why risk being disappointed?
P.P.S., If you're checking around for entertainment, make sure you ask these questions:
· Do they specialize in children's entertainment? Or do they instead try to perform "for all occasions"? (Just look at their ad or website. You'll see what I mean.)
· Can they describe their shows in detail, or does it sound like they simply just "wing" each show?
· How much experience do they have and what are their professional credentials?
· Last and most importantly, can they give you the same 100% MONEY- BACK GUARANTEE of total customer satisfaction!?
"Wow, everyone love the entertainment!
You helped make my party fun for everyone. I would tell people you are a great entertainer, the kids will love it and adults too!"
Robert Fernando, Valencia, California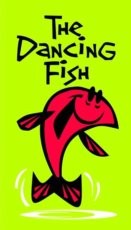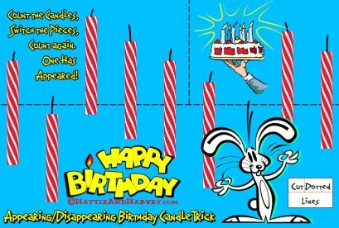 Just Some of the Balloon Animals Doug Makes: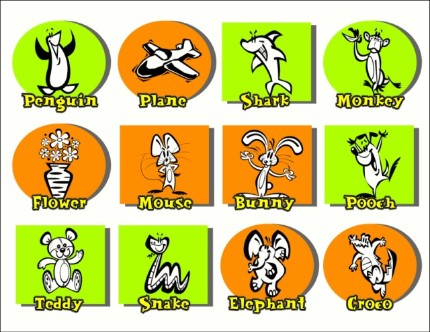 Yes, Doug can make balloon Planes, Penguins, Sharks, Monkeys, Flowers, Mice, Bunnies, Dogs, Teddy Bears, Snake Hats, Elephants, and Crocodiles! What more? Okay also, Hearts, Butterflies, Giraffes, Turtles, Lady Bugs, Kitty Cats, Ray Guns, Swords, Gold Fish and my favorite: Humming Birds!
Meet The Real Bunny That Comes To Your Party!
One of Doug's favorite thank you letters!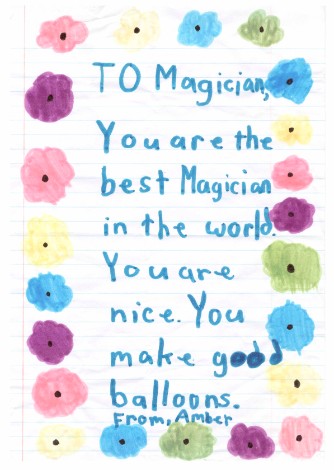 "TO Magician,
You are the

best Magician

in the world.

You are

nice. You

make good

balloons."

From, Amber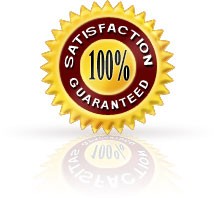 Want to see more of the Head Spinner?
Listen to these youngsters having fun!
"The Academy of Magical Arts and the Magic Castle THANK YOU so very much for your time, energy and talent. We appreciate that you were so generous in giving of yourself at this year's KID'S DAY!"
Lesley Manning, Kid's Day Coordinator,
Children's Magician And Entertainer
661.513.4113

Serving All of Southern California
Looking For A Kid's Magician, Clown Or Entertainer In Your Area?
Magician in Antelope Valley, Magician in Arcadia, Magician in Calabasas,
Magician in Camarillo, Magician in Fillmore, Magician in Granada Hills,
Magician in Lancaster, Magician in Northridge, Magician in Ojai,
Magician in Oxnard, Magician in Pasadena, Magician in Santa Clarita,
Magician in Santa Paula, Magician in Simi Valley, Magician in Sunland,

Magician in Sun Valley, Magician in Thousand Oaks, Magician in Valencia,