Are You Looking For An Entertainer For Your Next Birthday Party In Northridge?
Then See How Doug Brings The Fun And Happy Kids To The Party!
If you want happy kids, adults laughing their heads off at your next birthday party then check out what Doug does:
Fill out the form below to learn more about Doug's shows: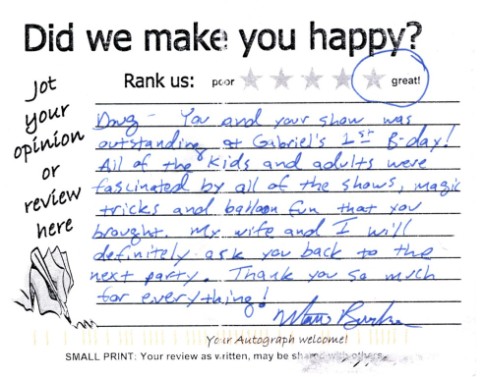 Happy Kids At Doug's Magic Show!

See How Much Fun The Kids Have:
Hear What Mom Has To Say About The Show!
Parents Love The Show Too!
Looking To Hire A Magician in Northridge?
Here are some excellent tips on selecting a magician
or any entertainer for your upcoming event.
A Northridge magician should be known for his magical talents. More importantly however is the ability & expertise in keeping both children and adults entertained with laughter and amazement for the entire time. It is critical to hire the right magician for your upcoming children's birthday party to make happy children and lasting memories.
With so many magicians and entertainers out there performing at different types of events it is often hard to select the perfect one for your birthday child's big day.
Not to worry! The following are some great tips on selecting the right Northridge birthday party magician:


Tip #1
Talk to the magician or entertainer before booking the show. This may seem obvious but if you go through an entertainment agency you will not be talking with the magician but the booking agent. The booking agent then goes out and hires the actual magician who comes to your house. Wouldn't you rather speak with the person you are inviting into your home? Get a feel for what they are like? This is crucial to know if this entertainer is right for your party.

Tip #2
Be sure that the Northridge magician you decide on for your children's birthday party will customize the show depending on your child's age and the rest of the guest's ages. Four and five year olds are totally different than nine and ten year olds. A kid's magician may only perform for one age group or the other. Maybe there will be a mix of ages in the show audience. You also want the adults to be entertained at the same time the children are entertained. Most important of all is do they fit in with your event? They may be good but do they fit in with your party?

Tip #3
Experience. Birthday parties are all about making happy kids and memories. You want your Northridge magician to bring that to your party. So how much experience does this entertainer have? Someone just starting out might have enthusiasm but can they do an entertaining family magic show? Most beginning magicians start out by doing good magic tricks but experienced magicians have learned the importance of being entertaining at the same time.

Tip #4
Does the magician have positive feedback? A good children's magician should have some nice things said about them from other parents. From their past children's magic shows do they have good reviews of their birthday party magic skills? Were the parents happy and would they recommend them to their friends?

These guidelines will help in your search to find a great magician in Northridge for your children's birthday party. One that will make those happy children and fantastic memories. Good luck and all the best for your event!

Looking For A Magician, Clown Or Entertainer In A Specific Area?
Magician in Antelope Valley, Magician in Arcadia, Magician in Calabasas,
Magician in Camarillo, Magician in Fillmore, Magician in Granada Hills,
Magician in Lancaster, Magician in Ojai,
Magician in Oxnard, Magician in Pasadena, Magician in Santa Clarita,
Magician in Santa Paula, Magician in Simi Valley, Magician in Sunland,

Magician in Sun Valley, Magician in Thousand Oaks, Magician in Valencia,

Magician in Ventura, Magician in Palmdale