Click above on "Show Info" to learn more about Doug's magic show for birthday parties!
"Your show was absolutely wonderful. We adults enjoyed it as much as the kids!
Hope to see you at another event soon." William Vibe, Calabasas, CA
If you would like some fast answers to your questions fill out the form below.
Would you like a phone call or e-mail response?
Or you can call:
805.755.5914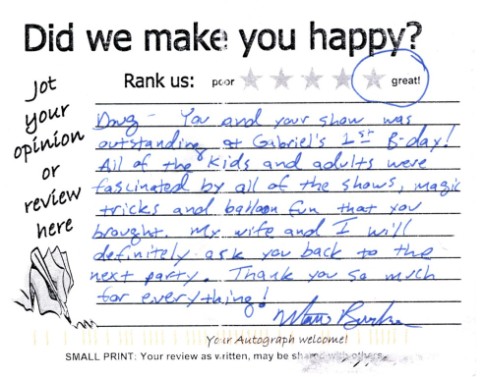 Happy Kids at One of Doug's Shows:

See and Hear the Fun Everyone Has:
Hear What One Mom Has To Say:
A Real White Rabbit Comes To Your Party!
The birthday boy or girl gets to help make the bunny magically appear!!!
Looking For A Magician, Clown Or Entertainer In Your Area?
Magician in Antelope Valley, Magician in Arcadia, Magician in Calabasas,
Magician in Fillmore, Magician in Granada Hills,
Magician in Lancaster, Magician in Northridge, Magician in Ojai,
Magician in Oxnard, Magician in Pasadena, Magician in Santa Clarita,
Magician in Santa Paula, Magician in Simi Valley, Magician in Sunland,

Magician in Sun Valley, Magician in Thousand Oaks, Magician in Valencia,

Magician in Ventura, Magician in Palmdale