Looking For A Magician Or Clown In Antelope Valley?

Then Find Out What
A Comedy Kid's Magician
Can Do For You!
Looking To Hire a Magician or Entertainer in Antelope Valley? Doug Hoover has been the favorite magician of the Quartz Hill Library for over 7 years!
"Your show was absolutely wonderful. We adults enjoyed it as much as the kids! Hope to see you at another event soon." William Vibe, Antelope Valley, CA
For more information on Doug's birthday party magic shows for kids and family events call or fill out the contact form below: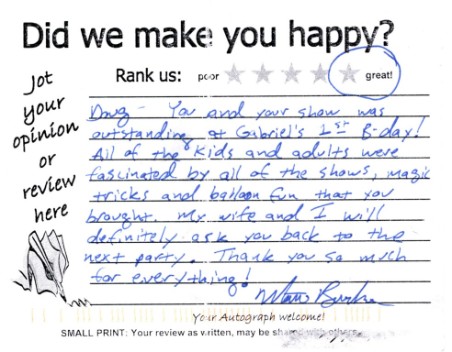 Kids at One of Doug's Shows:

Click Below and See How Much Fun it is!
Bringing Happiness To The Party!
Looking To Hire A Magician?
Questions Should You Ask!
Here are some tips on questions to ask before hiring a magician to get the most for your money:
1) How long have they been performing for children? If they are just beginners they might not be able to control the children's attention for very long. You want someone with experience to feel confident your kids will have a great time watching the magic show.

2) Do they change the show depending on the age of the children? 4 and 5 year olds like different things than 9 and 10 year olds. You know toddlers like funny things. They want to laugh at goofyness and surprises. Older children want to have their socks knocked off with things appearing and disappearing. They want to laugh too but they want to be dazzled.

3) Will the adults watching the show be entertained as well or is it strictly a kiddy show? Adults want to see some good magic and comedy interaction with the kids. Kids laughing their heads off is what makes them happy.
So make sure your magician has some good answers to these questions before you invite them to your party!

Looking For A Magician, Clown Or Entertainer In Your Area?
Magician in Arcadia CA, Magician in Calabasas CA,
Magician in Camarillo CA, Magician in Fillmore CA, Magician in Granada Hills CA,
Magician in Lancaster CA, Magician in Northridge CA, Magician in Ojai CA,
Magician in Oxnard CA, Magician in Pasadena CA, Magician in Santa Clarita CA,
Magician in Santa Paula CA, Magician in Simi Valley CA, Magician in Sunland CA,

Magician in Sun Valley CA, Magician in Thousand Oaks CA, Magician in Valencia CA,

Magician in Ventura CA, Magician in Palmdale CA