Looking For A Magician or Clown For Your Next Granada Hills Birthday Party?
How About An Entertainer!?!
Looking To Hire an Entertainer in Granada Hills? Doug Hoover has been the favorite magician of in Granada Hills for over 15 years!
"Hope to see you at another event. Your show was absolutely wonderful. The adults enjoyed it as much if not more than the kids!" Bill Vibe, Granada Hills, CA
For more information on Doug's birthday party magic shows for kids and family events call:
661-513-4113
or fill out the contact form below for a fast response:
Fill out the form to find out more about Doug's shows or click to go to other information pages!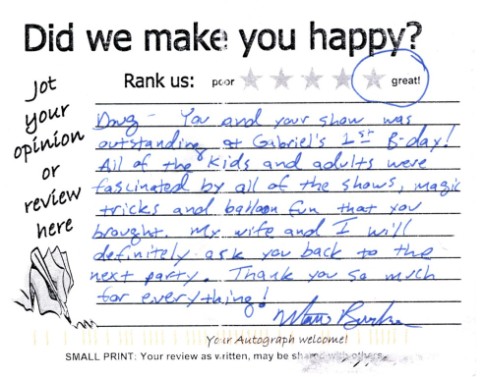 The Birthday Boy or Girl Gets to

Make the Bunny Rabbit Magically Appear!!!

Happy Kids at Doug's Magic Show:

Doug Brings Happiness to the Party!
Hear What Mom Has To Say About Doug's Show!
Tips To Make Your Next Birthday Party in Granada Hills Run Smoother:

First Tip: Picking a Theme

Toddler parties can be something you see that your child seems to take a special interest in. Otherwise, anything you choose will be just as fun. Of course, I like magic themed birthday parties for kids. =)

But ask your birthday child what themes they would like. Let them name a few and you add some too. Write each down on its' own card. Here you get to have some fun. Think together what would be great at each party. The decorations, games, food ideas, cake, party favors as well as where the party will be held. Write down these thoughts on the cards.

Now look at each card with its ideas and pick the top three favorites. Keeping in mind your budget, how easy you can actually do a theme and your child's excitement for any particular one. Throw out the really impractical ones.

If the top three are in your budget and capability to do give your child a couple of options. They can pick their favorite out of them or you can put them in a hat and let them pick that way. But once the decision is made they need to understand it is final because you will be making arrangements such as making and buying decorations, invitations and things that can't be changed.


Second Tip: Keep the kids occupied with games and activities!

So have plenty of games that your child's guests can participate in and keep the idle time to a minimum. It is when children are not engaged in a guided activity that they will start running and chasing each other through your house. All that energy has to go somewhere. Think of children as a herd of wild horses stampeding. You will have little chance of stopping them but you can guide them!

Even in Granada Hills summertime birthdays are easier to plan outdoor parties for and keep children actively involved but wintertime outside parties can be done too. Just beware and have a backup plan to bring the party inside in case the weather turns bad! Have several games that can be played indoors to add to your back up plan.

Have enough party game prizes so everyone wins something. If it is a musical chairs type game each child can receive a prize as they are eliminated, reducing the disappointment of being out. You have a grab bag filled with age appropriate small toys, play rings, pencils and pencil toppers that the "out" child gets to take from. It is a party after all!

Getting a Jumper House is a popular way that parents think will take care of the kids extra energy and keep them occupied. And it will to a certain extent. But some children are more social and want to interact more, some have had a bad experience in a jumper that makes them shy away from them and it is the rare child that will stay in one for more than twenty minutes at a time. That seems to be the limit of attention and energy for jumping! If the children are of mixed ages older children sometimes dominate the jumper and are rougher than younger ones like. Having an adult or older child to supervise the jumper is a good idea!
This is where a birthday party magic show also comes in. The magician takes the party over for an hour or so and gives you a much needed break. A professional will keep the kids glued to their seats as if mesmerized!
Third Tip: Your Back Up Plan

Have you ever enjoyed the Rose Parade on New Year's morning, sitting in your robe with a warm cup of coffee? Then you have probably noticed the weather is always seems beautiful in Southern California. The sun comes out, the mountains are in the background, clear skies with maybe a few puffy clouds. It is what California in the winter is known for. I grew up in Pasadena and have helped plan and run the Rose Parade in for longer than I care to admit. I am here to tell you however, we always have a rain plan for everything. Every aspect of the parade is looked at and the question is asked, what happens if it rains and what do we do if it does? It has rained on the parade but it has never been canceled. Postponed yes. Canceled, no. And I think part of the reason, laugh if you want to, that it rains so infrequently on the parade is that we do plan for wet weather and have a Back Up Plan.

Having a back up plan is also very important just for your piece of mind. As previously mentioned the weather may not cooperate for your party. The weather is usually pretty good in Granada Hills but that Bounce House is not going to do you much good on a rainy day. A great back up plan is your insurance against an unhappy birthday child and a house full of kids with nothing to do but chase each other around.

Have extra games up your sleeve that you can pull out. Keep your food mobile so it can be indoors or out. Having a second in command helper will really pay off here. It will keep you from getting uptight which will be picked up fast by your young guests who will react accordingly. As long as you seem to be having a great time so will your guests!

If you have hired a magician to do a childrens magic show and planned to have them outside, moving them inside will be easy. Move a coffee table and put the kids on the floor. They are used to sitting on the floor at school for events. You will be surprised how many kids you can pack on a floor. Then the magician will give you that much needed break capturing the children's attention for the time the kids are having fun with them.
I hope these tips help your next party run smoother and with less stress. Whether you invite me to your party to have fun with your kids and guests or not, have a great one!
Doug

Comedy Birthday Party Magicians
661.513.4113
Serving Granada Hills, CA

and all of Southern California
Looking For A Magician, Clown Or Entertainer In A Your Area?
Magician in Antelope Valley, Magician in Arcadia, Magician in Calabasas,
Magician in Camarillo, Magician in Fillmore,
Magician in Lancaster, Magician in Northridge, Magician in Ojai,
Magician in Oxnard, Magician in Pasadena, Magician in Santa Clarita,
Magician in Santa Paula, Magician in Simi Valley, Magician in Sunland,

Magician in Sun Valley, Magician in Thousand Oaks, Magician in Valencia,

Magician in Ventura, Magician in Palmdale