Are You Having A Party?
Then Find Out What A Comedy Kid's Magician Can Do For You!
Looking To Hire a Magician or Entertainer in Ojai? Doug Hoover has been the favorite magician in the Ojai area for over 15 years!
"Your show was absolutely wonderful. We adults enjoyed it as much as the kids! Hope to see you at another event soon." William Vibe, Ventura, CA
For more information on Doug's magic shows for children's birthday parties and family events call or fill out the contact form below: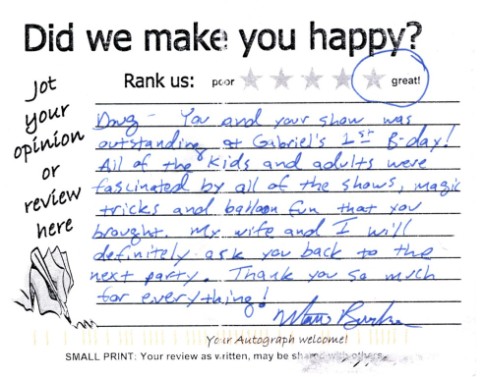 Happy Kids At Doug's Show:

Click Below to See the Fun!
Mom Has A Few Things To Say About Doug's Show:
Comedy Birthday Party Magicians
661.513.4113
Serving Ojai, CA

And Southern California
Looking For A Magician, Clown Or Entertainer In Your Area?
Magician in Antelope Valley, Magician in Arcadia, Magician in Calabasas,
Magician in Camarillo, Magician in Fillmore, Magician in Granada Hills,
Magician in Lancaster, Magician in Northridge,
Magician in Oxnard, Magician in Pasadena, Magician in Santa Clarita,
Magician in Santa Paula, Magician in Simi Valley, Magician in Sunland,

Magician in Sun Valley, Magician in Thousand Oaks, Magician in Valencia,

Magician in Ventura, Magician in Palmdale